For almost every couple who is planning a wedding in 2020, the question on their mind is should we postpone or cancel our wedding? The current climate surrounding the COVID-19 health crisis is changing rapidly and it is difficult to keep pace with the government imposed recommendations. Clearly, we are in a period of uncertainty. In addition to the health crisis itself, couples are experiencing additional stress trying to understand the impact of the virus on their upcoming wedding.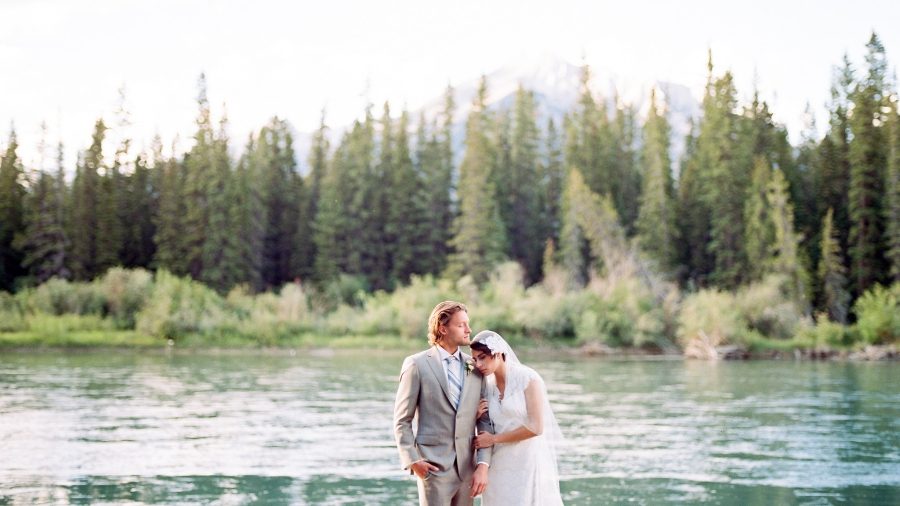 With the current government-imposed travel bans and gathering restrictions, Alberta weddings in March and likely April will have to be canceled. This applies to weddings of 50 guests or more. There are also border closures both land and air, that may restrict guests from entering Canada. As well, there are recommended social distancing measures in place and recommendations regarding monitoring health and self-isolation as required. Couples also have to consider the risk to their guests (especially older adults) and their social responsibility to "flatten the curve" of transmission. There is no indication that these measures will be lifted in the near future.
Yesterday, Alberta's Chief Medical Officer of Health, Dr. Deena Hinshaw, speculated that the peak of the virus will likely be May or June of this year. It's possible that this peak could be reached sooner, but for now, this is the estimation. For weddings up to and including June, this means that the strict restrictions could remain in place to curb the spread of the virus. Albertans are to being asked to expect a "new normal" for at least a couple of months, and not just a couple of weeks.
What does this mean for your wedding? It depends on what you have planned. What we do know is that if your wedding includes international guests, and/or more than 50 people, in all likelihood, your wedding will not be able to move forward as planned. While highly disruptive, the main priority for anyone planning a wedding needs to be the safety of themselves and their guests. The government imposed sanctions should be at the forefront of your wedding plans.
Wedding Insurance and postponing or canceling your wedding?
If you have wedding insurance, you will need to be familiar with the details of your policy. Wedding insurance protects a couple's investment. If you are planning a wedding in the future, it is worth looking into. As mentioned in my previous article, it is unlikely you can get a new policy for wedding insurance for weddings in the near future. Furthermore, most policies will not cover cancellation due to the coronavirus as it was a "known condition" as of January 2020. If you do have a current policy, however, one thing to look out for is a clause that pertains to "disinclination". This may refer to a disinclination to travel or just in a disinclination to proceed with your wedding.
There is a distinction between you "choosing" to cancel your wedding versus your wedding being canceled. Your policy may not cover you if you choose to cancel. On the other hand, if you "have to" cancel your wedding due to any number of reasons including, government-imposed gathering restrictions, travel bans, your venue closing its doors or changing their policies making it impossible to have a wedding (e.g. not offering food service, etc.), or any other reason then your policy may cover some or all of your losses.
The other day I wrote a post on The impact of the coronavirus on your wedding – 10 steps to take before you cancel or postpone your wedding. I have been updating this page regularly with specific information on Alberta. I provided official links that contain valuable information on COVID-19. I encourage you to check out the post and the official links provided so that you have the most up-to-date information to make informed decisions about your wedding.
Negotiating with your wedding venue if you postpone or cancel your wedding:
My recommendation is to first talk to the appropriate person at your wedding venue. In all likelihood, the majority of your wedding investment is with your wedding venue. You will also need to speak with all your wedding suppliers and be familiar with your contracts with them (more on this later).
With respect to your wedding venue, they would likely prefer that you reschedule your wedding as opposed to canceling your wedding. This, of course, maybe in your best interest as well. Depending on your contract (we have previously suggested knowing exactly what is in your contract) you could lose your deposit should you cancel. If you have made other payments, you could stand to lose those as well, particularly the closer it is to your wedding date. It is wise to try and work with your venue to carve out the terms of your rebooking your wedding. We can only hope they will be flexible given the uncertain climate we all find ourselves in.
Keep in mind that rebooking your wedding with a venue doesn't mean you won't incur extra costs. Your wedding venue will likely draw up a new agreement for you to sign. You will need to review it carefully. Are there extra fees attached? For example, are you required to put down another deposit for the new wedding date? Are there other costs associated with the new contract? For example, higher room rates, increased food, and beverage costs, etc.? Has the company implemented new policies since you signed the original contract that would cause you to incur extra costs? Are the conditions the same in your new contract? Compare your original contract with your new contract and ask questions. If you notice new charges, try and negotiate with your venue.
It is in the venue's best interest to have you reschedule, rather than cancel your wedding. You might have some negotiating power before you sign a new contract. At the very least, it doesn't hurt to ask questions. For example, will the venue honor their current prices for food and beverages? If they are unwilling to budge on pricing, you might remind them that you are also potentially losing a lot of money (maybe you already booked your flights, or had your wedding invitations printed?). While you can appreciate their situation, you too may be feeling the pinch. Ask what can they do for you?
If the venue is not willing to be flexible, can you afford their new terms of the contract? Are you prepared to walk away and find a new venue? If you are experiencing hardships as a result of this unprecedented situation, share with them. Let them know that you would appreciate their flexibility and cooperation so that you don't have to resort to canceling (which is a lose-lose scenario for everyone) especially if you are trying to keep not only your guests safe but their staff as well. If you are fortunate enough to have a venue that is willing to make some concessions, make sure these are included in the new contract. When negotiating, if it's not in writing, it didn't happen.
Finally, ask your wedding venue if there is anything you need to do with respect to postponing or canceling your wedding. Will they cancel previous room bookings for you on your behalf, and reschedule them? Again, make sure that you get it in writing that they will handle this. You don't want to end up paying for accommodations tied to both your original and new contract!
Working with your wedding vendors on postponing or canceling your wedding:
Work with your other wedding service providers the same way you would your venue. Financially, it makes the most sense to postpone your wedding (rescheduling instead of canceling). It's possible that you stand to lose deposits from all your vendors. Keep in mind that it's probably in both your best interest to work together. Most wedding vendors are boutique or small to medium companies, and the cancellation of several weddings can impact them significantly! Most vendors are flexible and want to help you where they can.
As suggested, you may want to reschedule your wedding venue date first. There is no sense in rescheduling with your other vendors, only to find the new date you wanted for your wedding is unavailable. Once you have a confirmed wedding date, reach out to your wedding vendors starting with the vendors that are your "high-priority" vendors. Many of your vendors are experiencing the postponement and cancellation of multiple weddings. If you wait too long to reach out, they may no longer be available.
Read carefully the agreements you have in place with your wedding professionals. What is their cancellation policy? Does it specify that you are subject to a new deposit or additional fees in order to cancel or postpone your wedding? Do they have any room for flexibility? Again, you will want to consider any extra costs in your overall wedding budget to ensure you can afford to still work with them. If you can't reach an agreement, you may have to find a new wedding professional to work with. While this is unfortunate, there are a lot of vendors who would love to work with you!
Your current wedding contracts with your venue and service providers:
Many of your wedding vendors will require that they "markup" your existing contract with a new wedding date (if you are rescheduling). Others will require you to dissolve the old contract and require you to enter into a new contract agreement with them. Some may even require a new deposit. If you find yourself in this situation, try and negotiate with your vendors. This is a reasonable request given the current climate.
Do not make the mistake of assuming that you can defer payments to your venue or to your other wedding service providers without making alternative arrangements or you may be in breach of your contract. If you haven't canceled your wedding, you are obligated to make payments according to your fee schedule outlined in your agreement with vendors. You also should not hold off making payments until you figure out what to do. The terms of payments owing are usually specified in your contracts. If you are experiencing trouble making payments or are worried about making payments should you decide to cancel or postpone your wedding, you still do not want to default on your payments.
Talk to your vendors and express your concerns. Get permission to defer payments! Most wedding vendors want to be flexible but they also have bills to pay, overhead expenses, staff to pay, etc. The sooner you can work out agreements with them, the better.
Cutting Your losses?
While it can be beneficial to postpone your wedding, some couples may still want to cut their losses and cancel outright. Keep in mind that what you stand to lose from deposits as well as payments required under your agreements, could be substantial. If you book with new vendors, you will also incur additional retainer fees and expenses. Regardless, every situation is unique and you deserve to make a decision that is right for you. The coronavirus has impacted everyone significantly in ways far beyond just finances. Our family, friends, and neighbors are being impacted. We all need to be compassionate and understanding during this crisis.
You've made the decision to postpone or cancel your wedding. Now what?
Assuming you have confirmed the wedding date, now is the time to inform your guests of your decision. You may want to send an email (or speak personally with them). Let them know that you have been monitoring the coronavirus situation, and have decided that in the best interest of everyone (including their health and safety) that you have made the difficult decision to postpone your wedding. Ask for their understanding and support. Your guests have set aside time in their lives to be with you on your special day. They may have made travel or accommodation arrangements already. They too might lose money as a result. This a difficult position for everyone and some guests may not have the means to attend your future wedding.
Let your guests know your plans as soon as possible. They may be able to reschedule dates and flights. Many airlines are currently waiving cancellation fees in light of the COVID-19 pandemic. Guests will also have to cancel accommodation bookings and other arrangements.
Depending on where you are in the planning phase of your wedding, you may also have to look at canceling other wedding-related services. What else have you booked? Were you in the process of getting your wedding invitations printed? Can you cancel them immediately and avoid further payments? Even if your invites were in the design stage, you could save having to fully pay for them if they aren't printed or mailed. Contact your suppliers as soon as possible and ask questions!
If you have been speaking with wedding vendors, but their services were not yet retained, you still may want to reach out to them and let them know you have postponed or canceled their wedding. It's always best to keep the lines of communication open should you need their services in the future!
Other thoughts:
Every situation is different and it is hard to anticipate everything you need to take care of in light of this rapidly changing health crisis. If you do have to make alternative wedding arrangements, this is an opportunity to do things differently! Here are some thoughts:
Get insurance. The coronavirus crisis highlights the uncertainty of the current climate we live in. If you are postponing your wedding for a future date, you should be able to get an insurance policy for the new date. While it may not cover future outbreaks, this is an opportunity to be prepared and more informed on what coverage you can get.
Have a contingency fund for your wedding. It is a heart-breaking prospect that some couples won't have it in their budgets to weather this storm. They may have to cancel or postpone their wedding indefinitely. If you have the opportunity to reschedule your wedding, start putting money aside for unexpected circumstances. It is a good idea to put aside at least 10% of your overall budget for this. These funds don't necessarily have to fund an unexpected global pandemic, but they still are a good idea.
Prepare a detailed wedding budget. Many couples have an idea of what they want to spend but do not have a detailed budget outlining all their costs. When faced with unexpected costs, they have no idea how this impacts their overall budget.
Expect that your wedding might look different. Even if you are just rescheduling, your wedding may look different. You might have to book different wedding vendors because your original choices are no longer available. Some of your guests may not be able to attend your wedding if you reschedule. Your wedding guest list may be much smaller than you expected. Loved ones may not be able to attend. And, you may have to scale back on some of your original plans due to budgetary constraints.
Consider hiring a videographer. If you hadn't considered hiring a wedding videographer before, this might be the time to reconsider. Whether it is because guests cannot attend your wedding or that you had to scale back the size and scope of your wedding, you may want to still share your wedding experience with your guests, and what better way than through video? Some providers may even be willing to live-stream your wedding!
The coronavirus, won't stop you from getting married! You can still make it happen, you just may have to think about your wedding differently. You may have to plan differently. You might even consider eloping. Whatever it is you have to do to make your wedding happen, know that we are here to support you as best we can, to help you find solutions, or to think outside the box.
Do not give up hope! Having a smaller wedding, or having your wedding in a year's time, is not going to change the love you share together. While there could be additional expenses, it might also mean you have more time to save for your wedding. It might also be a chance to do things differently and to be creative! You may even be surprised to learn that this is an opportunity to discover what is most meaningful! There can be positive takeaways!
Whatever you do, remain calm in the face of these uncertain times and remember what is important. You love each other and have loved ones who support you. Stay safe, and help keep everyone safe!